Happy September! We hope everyone has been having a good month thus far with getting the kids ready to go back to school.
Over the last three-or-four weeks, we have been getting many questions about mortgages, pre-approvals and mortgage rates, so for this months' blog, we interviewed 
Julie Isaac
 from 
The Mortgage Group
.
Julie has been advising in the banking and lending industry since 1992. She has first-hand experience with purchasing "flips," foreclosures, building homes, tax prep, and rentals.  She has also held mortgages with over 10 different lenders to give her valuable knowledge of policies and interactions.
Here is what we asked her.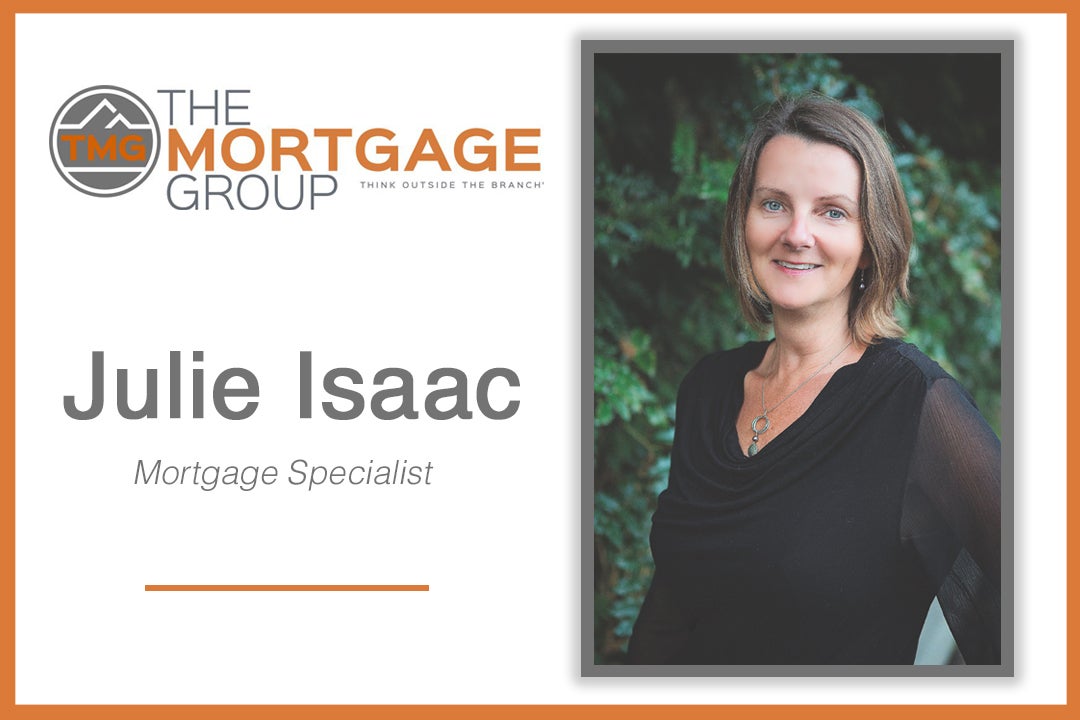 How does the mortgage approval process work?
The pre-qualification stage involves completing an application, which is a snapshot of a purchaser's financial information. Documents and credit histories are collected and reviewed upfront, as well as discussing short and long term goals. Once done, we recommend the mortgage options that are best suited to their particular situation and lifestyle.

Once a Buyer has found "the one," their Mortgage Broker will review all the property's details, which could include strata minutes, MLS information, speaking to insurance companies, and even the lender. We recommend that purchasers inform their Mortgage Advisor in advance of making an offer to purchase, especially if there is a short subject removal timeframe.
Once a purchaser has an accepted offer, we double-check current mortgage offerings and provide a shortlist of the best mortgage options.
Once a client has decided on which mortgage solution/lender to go with, a mortgage application is submitted to the lender, with an answer typically between 24 to 48 hours.
Any final documents requested are provided to the lender, and once reviewed, the Purchaser has a firm commitment/approval and can confidently remove their financing subject.

Should you apply for a fixed or variable mortgage rate?
Choosing between a fixed or variable rate depends on several factors, not just rates.  Is there one household income, or two? Will clients be able to sleep at night, or will they be worrying about whether to "lock-in" their variable to a fixed?

Assuming clients are comfortable with a variable – we then analyze the difference between a fixed rate and a variable and then factor in anticipated changes to the Prime rate (that impacts variable rates).

We cannot predict what the prime rate will do, but we can provide clients with this comparison tool between a fixed and variable rate. They can use this tool to see the total interest paid and mortgage balance at the end of the term, based on several different scenarios with Prime.

This helps clients to make an informed decision. Variables in the past have been lower than fixed (so starting at a lower rate when the mortgage balance is highest), but now we're in a situation where the variable rate is marginally lower than fixed, making it more worthwhile to consider.

With the economic fallout of COVID, it is anticipated that the prime rate will remain low for the next couple of years.
Variable mortgages also tend to have lower pre-payment penalties, so can be part of a strategy depending on a purchaser's short and long term goals.
What is the closing cost you should budget for?
Purchasers should plan on having enough for legal fees and any strata or property tax portions owed to the Seller; we recommend roughly $1200 to $1500. We provide our clients with a closing cost estimate sheet that summarizes the anticipated closings costs – and the Lawyer or Notary will provide the exact figure closer to the purchase date.
The BC Property Transfer Tax due at the time of purchase cannot be added to the mortgage, so Purchasers need to make sure they have this available.1% on the first $200,000, 2% on the portion of the fair market value greater than $200,000 and up to and including $2-million.

What are the restrictions on refinancing a mortgage?
In general, borrowers need to have more than 20% equity in their homes to refinance and take out equity. A borrower who originally put in less than 20% will have an "insured" mortgage, and they cannot take out equity or increase their mortgage until it is at least at 20%.

If a borrower wanted to refinance to get a lower rate, but don't have the extra money, the rules (lobbied for by the major banks) state that borrowers need to requalify to move their mortgage to another lender (but not to stay where they are).

A Mortgage Broker will be happy to pre-qualify borrowers to let them know if they can refinance or move their mortgage. One of the biggest things we do is help clients determine if they will be better off financially paying a penalty to "break" their current mortgage and go into a new mortgage, or if it's better to remain in their current mortgage.

What advice would you give first time home buyers?
Work with an Independent Mortgage Professional that will provide all the options (not just the ones offered by the Purchaser's Financial Institution).

Get pre-qualified, so you are ready to confidently make an offer when you find the "right" place.

Find someone who will take the time to explain the process, and who will do the research to find the best mortgage solution – not just a rate for your situation!

Awesome stuff; thank you so much, Julie!
As realtors, we have seen a tremendous surge of activity, lower than ever before interest rates, and even a decrease in stress tests, which has prompted both Buyers and Sellers to act with urgency.
With lower interest rates, it is a great opportunity to increase your budget to get an even BETTER home or be able to compete if there are other offers, and with a reduced amount of stress tests, it means that buyers are more confident than ever before!
The fall market is going to be busy, and with the second wave of COVID-19 hitting many areas across the province, real estate is going to be a major reason for economic recovery.
So if you are selling, now is the time to get the best return, and if you are buying, now is the time to get a deal!
We hope you enjoyed the feature this month and just remember to not keep us a secret! Your referrals are our biggest compliment.
Stay healthy, stay safe, and we will talk to you soon.
Kim: (604) 720-3659 | Sean: (604) 880-9400 | WhittallRealEstate@gmail.com
.
.
.
.