OCEAN PLASTICS DESERVE OUR ATTENTION
The ocean is a big part of what we love about the North Shore. It is what made Kim move from Ontario years ago. And Sean can't imagine having grown up anywhere else. The ocean is also a vital part of not just our recreation, but also our livelihood helping sell the North Shore. We have a lot to celebrate here. We also have a lot to protect and restore.
As official ocean lovers and raving fans of the North Shore, ocean plastic is a big deal to us. We seem to hear horrifying stories daily–ocean mammals, fish, and seabirds with their bellies filled with plastic to our beautiful shores being contaminated with invisible microplastic. Estimates are that most Canadians use two to three times their own body weight in plastic every year. It is frightening to think, as some scientists predict, that in thirty years we might have more plastic in the ocean than fish.
We decided to focus this month's feature story on what is being done about the ocean plastics situation, and what we can be doing. The issue seems to be reaching a tipping point–from global treaties to thriving NGOs to shorelines cleanups and student presentations at Matt & Jessica's school (Gleneagles Ch'axáý Elementary). We all need to do our part in reversing the damage to our oceans.
While plastics in many categories are problematic, the biggest and perhaps easiest to tackle culprit is single-use plastics (bags, straws, cups, packaging, utensils) that accounts for half of the world's plastic. Four million tons of single-use plastic ends up in our oceans each year.  And while some of us see plastic washing up on our shores and in open water, the Strait of Georgia is filled with 3,200 plastic micro-particles per cubic meter of seawater that is invisible to the naked eye. These microplastics come not just from the breaking down of plastic over time, but also through our synthetic and synthetic blend garments shedding tiny fragments of plastic when being laundered. Wastewater treatment plants can't catch these tiny particles so they end up in the waterways.
WHAT'S BEING DONE
The good news is that all the public interest is starting to encourage action. Just in May, 180 countries reached a deal to sharply reduce the amount of plastic that gets washed into the world's oceans–a revision to the Basel Convention that Canada first signed on to in 1989. At the G7 Summit, Canada and four other leading economies signed a charter pledging that all plastic produced in their countries will be reused, recycled or burned to produce energy. And just last week, it was announced that Canada will be banning all single-use plastics as early as 2021.
Close to home, we were 
proud to hear
 that in May the Horseshoe Bay Business Association rallied 28 of the 35 local businesses to ban single-use plastics. Please show them your support.
WHAT WE CAN BE DOING
Refuse Single-Use Plastics
 – Try and eliminate the use of plastic bags, straws, plastic cups, and other single-use items when they are unnecessary or if there is an alternative.
Recycle & Re-use
 – As much as we would like to stop using plastic altogether, it is not practical. For times when plastic is the best material, we can choose products made with recycled plastics and recycle all our plastics, including items like plastic bags, wraps, and bags. Probably easiest is just to drop it at 
your local London Drugs
.
Consider Apparel
 – As it turns out, garments are one of the largest contributors of plastic waste. Did you know that companies such as H&M recycle your old garments and are now using recycled materials in over fifty percent of their garments? Support these companies as well as ones like MEC and Patagonia who are leaders in using recycled plastics in their synthetic garments and reducing plastic shedding during laundering.
Eliminate Microbeads
 – Ensure when you are choosing laundry detergent, cleansers, paint strippers, and even cosmetics that they do not contain any microplastics.
Educate Ourselves & Our Kids
 – Visit 
PollutionTracker
 where you can see the documented levels and trends of hundreds of contaminants on our shores. And if you happen to be over in Victoria this summer, make sure to stop into the Maritime Museum there to catch their exhibition, 
The Great Pacific Garbage Patch
.
---
HAPPY FATHER'S DAY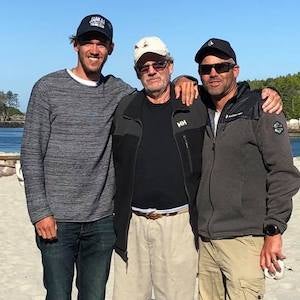 From our family to yours, wishing everyone a very happy Father's Day. We hope you are able to take the time to celebrate the dad's in our lives who mean so much.
---
UPCOMING NORTH SHORE EVENTS
July 1, Starting 10 AM
The North Shore has its own unique take on Canada Day celebrations and can keep you joyfully red and white from morning through night. Start with the 
family-oriented parade
 at 10 AM, which goes along 13th Street from Grand Boulevard. Then head over to 
Waterfront Park
 from 12–4 PM and watch the local performers, grab a bite, and let the kids burn off energy on the bouncy castles and climbing wall. Starting at 3 PM head over to the Red & White Picnic at 
John Lawson Park
 with your lawn chairs for an evening of entertainment and fireworks.
---
July 2-Aug 25th, 11am & 1:30pm
The Shipyard Pals are keeping the historic legacy of the area alive through character-led walks around North Vancouver's Burrard Dry Docks. Look for Sal and Sam in costume. Drop-ins are fine, and the tours are free.
---
One of our favourite events of the summer is back with two days of solid fun. Our kids are raving fans of the 1,000-foot long water slide and for good reason. What other city lets people water slide down its streets. All activities take place around Victoria Park. Check your bags at North Shore Neighbourhood House, which also offers change rooms and a free shuttle to and from the slide. Parking is difficult, so take the shuttle, transit or your bike. A half-day unlimited pass is $30. For the enthusiasts, an all-day slide pass is $45. Prices go up if you don't buy tickets in advance, so 
get them here
.
---
This annual summertime event is back for dinner, drinks and entertainment on the Horseshoe Bay dock with proceeds benefiting Royal Canadian Marine Search & Rescue Station 1 Horseshoe Bay. A new addition this year is local cocktail wizards, Sons of Vancouver, who will be behind the bar. Tables are already sold out. 
Single tickets can be purchased for $150
. We've already purchased ours.
---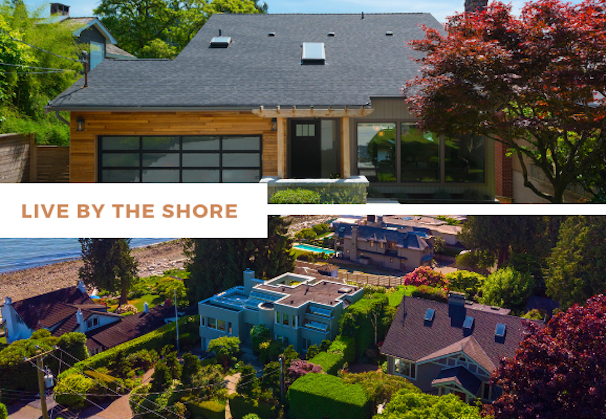 f you are considering purchasing a home in West Vancouver, we have some jaw-dropping properties to show you at different price points. This month we will focus on two: one in Gleneagles; the other on prestigious Bellevue Avenue at 28th Street.
6570 Marine Drive, West Vancouver, BC
Whether you are zipping into Downtown or down to Garrow Bay, Bachelor Bay or Whytecliff Park, this home has the perfect Gleneagles location. Here you not only join the desireable catchment of Gleneagles Ch'axáý Elementary, but also one of the most family-friendly neighbourhoods on the North Shore. With four bedrooms and four bathrooms, there's ample room for the whole family. This home is offered at $2,399,000. To see more photos 
click here
.
187 28th Street, West Vancouver, BC
Located in Lower Dundarave at Bellevue and 28th you will find a beautifully renovated character home with enough space for everyone, without the stress of maintaining even larger homes. With nearly 4,000 square feet of living space, five bedrooms are acccompanied by a gourmet kitchen that opens onto the dining and family rooms to the south-facing oversized patio. Living steps from the ocean means eay access to the Seawall and the Village full of artisan shops, groceries, and restaurants. This home is offered at $4,200,000. To see more photos 
click here
.
FOLLOW US ON SOCIAL MEDIA
While we spend a lot of time each month on this newsletter, we spend even more creating social media posts on North Shore highlights, events and real estate. Click the links below so you don't miss a single post.
Home buying in Canada was an entirely foreign process than what we were accustomed to in the U.S.. Kim and Sean explained the process, advised us appropriately and offered amazing referrals from their vast professional network. And then there is the house…they worked quickly and tirelessly, negotiating an offer an calming our nerves until we closed on the home of our dreams in Squamish. I know "home of our dreams" sounds cliche, but I am still in awe of how perfect of a place it is for our family. Thanks Whittall Real Estate! We are so grateful and highly recommend your services to anyone looking to buy or sell.
---
REFERRAL REWARDS PROGRAM
Learn how you can earn up to $2750 when you refer our services to friends and family.
MAY MARKET STATS
Thank you May! We finally saw the market take an upward turn, however slight, with sales in May being the highest in a year. The pace of new listings coming onto the market has also slowed, meaning that there are more offers starting to come in. May was still considered a balanced market with an 18% sales to active listings ratio across Metro Vancouver. If you have been thinking about buying, there is still a great deal of choice working in your favour. But the window is slowly starting to close where the options may not be so varied in a few months.
---
Metro Vancouver Snapstats
---
Greater Vancouver Snapstats
---
Fraser Valley Snapstats