The outbreak of the respiratory disease, Coronavirus (COVID-19), has impacted markets across the globe, including real estate. The fear COVID-19 invokes has resulted in a plunge to the stock market, caused professional sports leagues to sever their season, and is making Sellers a little more anxious at having an open house.
First detected in Wuhan, China, the disease has now spread across more than 100 countries. Reports on the virus' emergence suggest its origins came from interacting with an infected bat. Exposure to animal markets is believed to be the source of animal-to-person spread, as China is known for its large, live animal markets.
Declared a pandemic by the World Health Organization (WHO), and as it stands, there is no vaccine for the pneumonia-like virus. Health officials are urging the public to wash their hands regularly and sanitize to limit the spread.
Impact on Real Estate Market
The virus can go undetected for up to fourteen days, which is reducing the number of open houses for the fact that viewers could have the virus and not know it. Yet on the flip-side for Buyers, it is an opportunity to buy a home at a reduced price due to low rates from previous pandemics. However, with the interest rate cut and uncertainty about COVID-19's duration, both Buyers and Sellers have a sense-of-urgency to get transactions done.
Sellers
Despite their uncertainty, Sellers are starting to gain a sense of urgency as repricing becomes a financial norm during a crisis. If they wait too long to sell and the economy plunges, they could lose out on selling their home for the best price. There will not be enough money for Buyers to afford homes for the original asking price, leaving Sellers to settle for less.
Buyers
With a combination of urgency and more optimal financial opportunities, the upcoming season may result in a real estate market flush with Buyers. The interest rate cut encourages Buyers to buy a home now, as prices might rise later on due to a possible scarcity of available inventory. Also, lower bond yields prompts Canadian Banks to promote mortgage deals, with the government adjusting qualification for mortgage applications. Robert McLister, founder of RateSpy.com, believes lower rates are stimulative to housing, as he says in an interview:
"All of this is great news for housing and the mortgage market — until and unless we see a huge spike in coronavirus cases in Canada and/or a big jump in unemployment."
Similar to the real estate market during Toronto's SARS outbreak, McLister believes Canada's housing demand generally will be left untouched or even boosted in the upcoming months.
Impacts On Economy and Workflow
Prime Minister Justin Trudeau addressed concerns over the economic impact of COVID-19, saying, "We are currently seeing an impact on the global economy." He also referenced the supply chain disruption the pandemic has caused in China, warning that economic slowdown has already begun.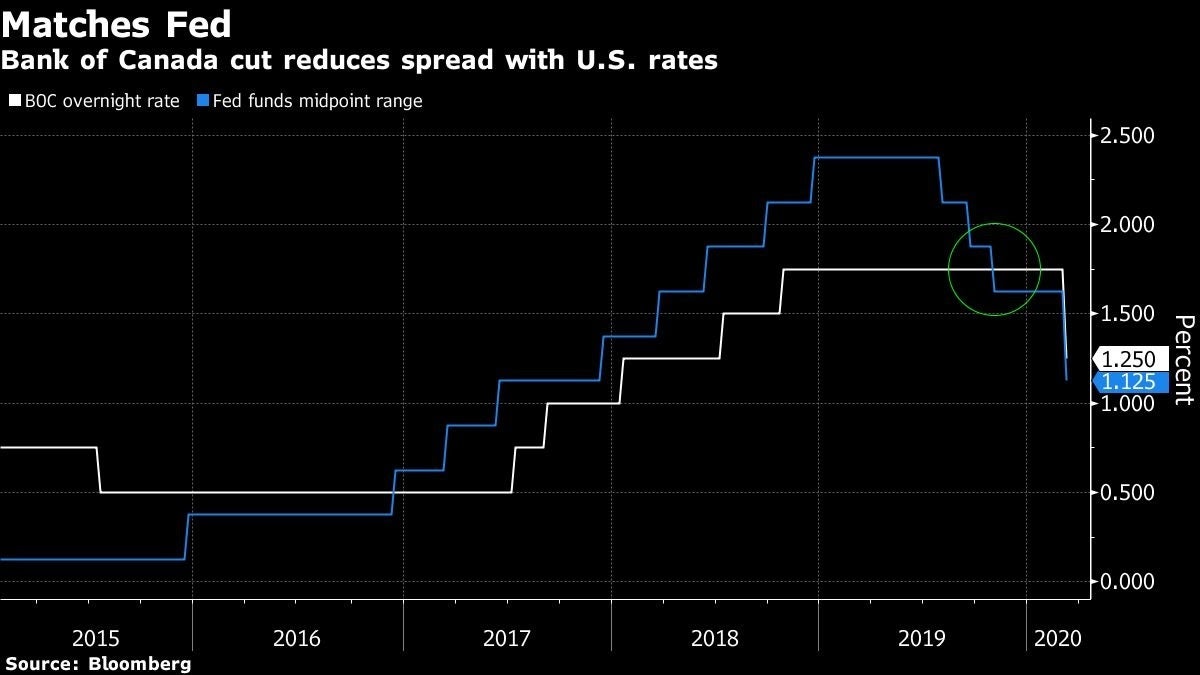 Source: "Bank of Canada follows Fed with rate cut as virus fears mount" by Erik Hertzberg and Theophilos Argitis, via (bnnbloomberg.ca)

In lieu, Canada's Stock Exchange has plunged, with stocks down to 2.29%, the lowest it has been in fifty years. Industry sectors suffer as investors abandon equities from the stock index, especially the energy industry, with oil prices dropping 6.6%.
To alleviate the effects of the economic crisis, the Bank of Canada lowered its benchmark interest rate from 1.75% to 1.25%, which is good news for Buyers as borrowing becomes less expensive.
Such a decision will ease monetary policy for the first time in four years, as policymakers prepare to adjust it further if required in sustaining economic growth. Avery Shenfeld, managing director and chief economist of CIBC Capital Markets, remarks on the Bank of Canada's decision, stating, "those people who are not quarantined or in cities that aren't as affected by the disease will be encouraged to spend a little more, and we need all of that."
He believes the rate cut will benefit the economy in boosting motivation towards spending, which can consequently help to sustain the real estate market.
____________________________________________________________________________
CORONAVIRUS TIPS AND TRICKS 
(As per the Stanford Hospital Board)
1. If you have a runny nose and sputum, you have a common cold.
2. Coronavirus pneumonia is a dry cough with no runny nose.
3. This new virus is not heat-resistant and will be killed by a temperature of just 26/27 degrees. It hates the Sun.
4. If someone sneezes with it, it takes about 10 feet before it drops to the ground and is no longer airborne.
5. If it drops on a metal surface, it will live for at least 12 hours – so if you come into contact with any metal surface – wash your hands as soon as you can with a bacterial soap.
6. On fabric, it can survive for 6-12 hours. A normal laundry detergent will kill it.
7. Drinking warm water is effective for all viruses. Try not to drink liquids with ice.
8. Wash your hands frequently as the virus can only live on your hands for 5-10 minutes, but – a lot can happen during that time – you can rub your eyes, pick your nose unwittingly, and so on.
9. You should also gargle as a prevention. A simple solution of salt in warm water will suffice.
10. Can't emphasize enough – drink plenty of water!
With times like these, it is important to stay level-headed and make smart decisions. We wish the absolute best for everyone and encourage everyone to seek immediate attention if you're feeling symptoms of coronavirus. Stay safe!
For more information and updates on COVID-19, click 
here
 to visit the World Health Organization's website.
Citations.
.
.
.
.