It has been a great fall for us thus far, and we are very excited as many great things have happened throughout October and November. Home sales have been picking up all across Metro Vancouver (which we will get into a bit later), and our Pumpkin Patch fundraiser was a huge success as we raised $1,800 for Gleneagles Chaxay Elementary in West Vancouver! Coming into November, we are very excited to finish the year strong and head into the new decade with momentum. In this month's newsletter, we are going to highlight the Buying/Selling market and where it is right now, how interest rates have caused an influx in homes being bought, and how we can help you kick off 2020 the right way if you are looking to sell.
Housing Market Update (October 2019)
After a slow start to 2019, there was a lot of wonder if the Metro Vancouver market would get back to being a historically "balanced market," which the classic saying goes, "Ask and you shall receive."  Inventory started off at 9.8 percent in January and worked its way down to 4.3 percent, which brought a balanced market. The total amount of sales in October 2019 was 2,858, which was 892 (+45.4%) more than October of last year and an astonishing twenty-two percent increase in sales activity over September. Huge! The overall benchmark price also took a decline of 6.4% (see breakdown below) comparative to last year, where the median price is now $992,900, which is great news. Homes stayed relatively stable in terms of pricing over September and October, but there was a slight uptick (0.2%).
Detached Homes 
$1,410,500 (Down 7.5% versus last year)
Townhomes 
$771,600 (Down 5.8% versus last year)
Condos 
$652,500 (Down 5.9% versus last year) 
The total number of homes for sale at the present time in Metro Vancouver is 12,236, and compared to the amount of homes sold in October, the overall sales-to-active-listings ratio hit twenty-three percent.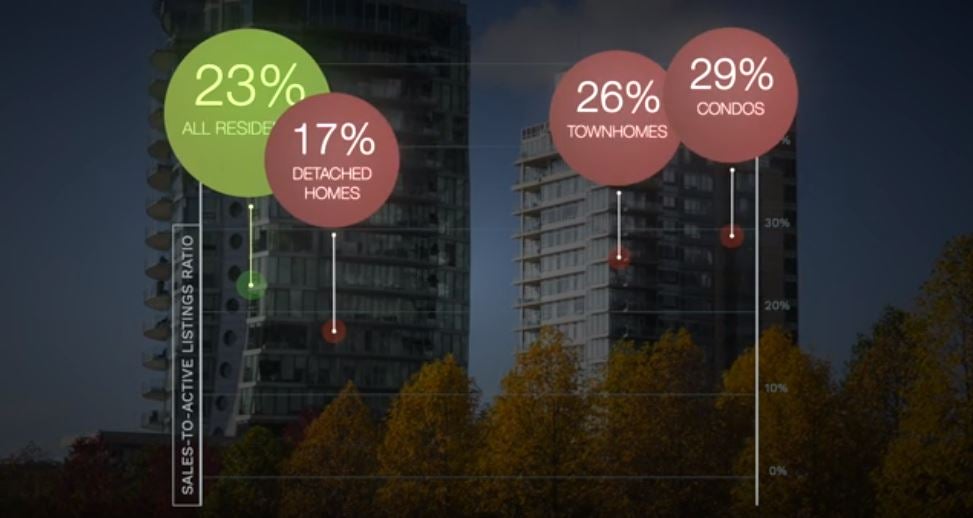 October 2019 Market Insights via (rebgv.org)
Lower Interest Rates
Now is the best time to buy a house as 
interest rates
 are staying low, which means home Buyers are becoming more confident compared to the first half of the year. With current trends of the market, home prices are forecasted to stay low to cap off the year then slightly start to climb, heading into 2020.
Jump into Spring and 2020 With Us
It is just over forty days until the dawn of a new decade is upon us. It is crazy to think how fast time flies sometimes. As the winter months tend to be a great time to renovate your home's interior, Sellers are gearing up for what should be a pretty active Selling market. Over the course of 2019, we hit new strides when it comes to helping some incredible clients/families Sell their homes swiftly and with ease. Selling or Buying your home all comes down to the people who are representing you and the communication, expertise, and relationship built. We take great pride in helping you reach your housing needs, and we want to be your team! Our thorough understanding of the current market and where it is going is unrivaled.
"Kim and Sean Whittall are amazing realtors to work with! They helped us sell our place and buy our forever home. They worked so well as a team together and we felt well taken care of throughout the whole buying/selling process. They were very professional and actually listened and addressed any concerns we had. We never felt pressured or rushed which made the whole experience exciting instead of stressful. Thank you, Kim and Sean! We will always be grateful for all your help in selling our old place and finding us our new home."

–      Jane Borromeo
If you are a Seller looking to list, or looking to buy a home in Metro Vancouver, email Kim and Sean at WhittallRealEstate@gmail.com. We look forward to hearing from you.
Happy November!